Prosecco strawberry compote & spelt scones
Ingredients
For the scones
250g wholemeal spelt
2 tsp baking powder
2 tsp sugar
1/4 tsp salt
75g butter, cubed
2 large eggs
130ml full-fat milk
For the compote
700g strawberries (British ideally)
200ml Prosecco
1/2 lemon, juice and zest
2-3 tbsp honey, to taste
To serve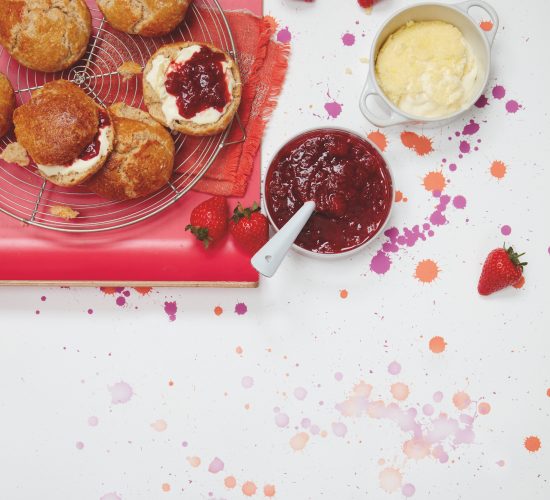 Strawberries are the superfood of summer, bursting with skin-boosting vitamin C and healthy antioxidants to help us look and feel our best.
Embrace the glorious abundance of British summer berries available now, with this delicious, street party-worthy recipe.
Method
To make the scones
Pre-heat the oven to 190°C/350°F/gas mark 4. Mix the flour, baking powder, sugar and salt in a medium sized bowl.
Add the butter to the bowl and gently rub it into the mixture until you have a crumb-like texture with no lumps.
Mix one egg and the milk together then make a well in the centre of the flour mixture and pour in the mixed egg and milk, gently stirring the ingredients together with a fork. Add a little more our if the mixture is loose.
Carefully remove the dough from the bowl and place on a floured surface. Roll out the dough to around 2cm thick and using a 6cm cutter (you can also use the rim of a glass) press out the scones.
Carefully place each scone on a non- stick baking tray, or a tray lined with baking parchment. Beat the second egg and brush each scone with it. Sprinkle a little sugar over the top and bake for approximately 15 minutes until the scones have risen and are golden.
To make the compote
De-stalk and roughly chop the strawberries. Place them in a saucepan over a medium heat and pour in the Prosecco. Stir well, then turn down the heat to medium-low and simmer for an hour or so until it thickens.
While it's cooking, stir occasionally and add the lemon juice and zest, and honey to taste after about 30 minutes. When it's just about done, turn up the heat to medium and let it bubble for a final few minutes before turning off the heat and letting it cool.
Serve with your spelt scones and clotted cream.
Note: British strawberries are available May – October. Opt for organic if you can or find a nearby pick-your-own farm.
Wellbeing Wisdom
Strawberries are bursting with skin-boosting vitamin C and healthy antioxidants
They are also a good source of iron, vital for energy levels and maintaining a healthy immune system