Events
Come and meet Liz at one of the forthcoming events below:
6th December 2017 
Our fabulous evening of carols, music and readings returns to St Simon Zelotes in Chelsea, at 6:30pm hosted by Liz Earle MBE. Many of our regulars tell us that the LiveTwice carol concert signifies the start of Christmas and we very much look forward to celebrating with you all again this year. Tickets are available here so please book early to avoid disappointment as they always sell out very fast.
12th December 2017
Join Liz at High Mood Food's Duke Street cafe for a festive evening sipping on mulled apple cider vinegar tonics, High canapes, and gut-health conversation. Liz will be talking all things gut health and signing copies of her best-selling book, The Good Gut Guide. The event will run from 7:00-8:30pm, the shop will remain open should you wish to do a stop of Christmas shopping and guests will receive a gut-health goodie bag to take home.
16th April 2018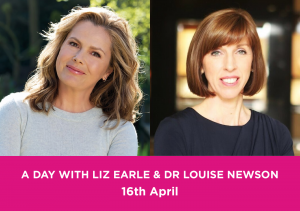 After her recent sell-out talk on gut health, wellbeing expert guru Liz Earle MBE returns to Perch Hill to advise us on what we can all do to balance our hormones and help us look and feel our radiant best before, during and after the menopause, from simple lifestyle changes to eating the right foods.
She is joined in the afternoon by Dr Louise Newson, a GP and menopause expert, who will be sharing her wealth of knowledge on the subject, tackling common myths and misconceptions, and answering your questions.
This fantastic day runs from 10:00am to 4:00pm approx, in the Perch Hill marquee. Tickets are available here.
You'll find pictures and updates from Liz's past events on her timeline here.