Events
Come and meet Liz at one of the forthcoming events below:
Tuesday, March 6th – 7.30pm start
Venue: Sar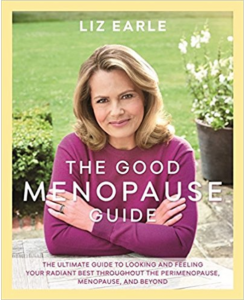 ratt Village Hall, The Green, Sarratt, Hertfordshire WD3 6AS
Tickets are £10 which includes a glass of wine or non-alcoholic drink – get yours from Chiltern Bookshop or Chorleywood Bookshop 01923 283566
The Good Menopause Guide, RRP £25, will be available for just £20
Wednesday, March 7th – Time 7.30pm start
Venue: The Spirella Ballroom, The Spirella Building, Bridge Road, Letchworth Garden City, Hertfordshire SG6 4ET
Tickets are £7, which is deductible from the cost of The Good Menopause Guide (RRP £25) if purchased on the evening. To book tickets, please call 01462 684631 or call in to the venue.
26th March 2018
With over thirty years' expertise in wellbeing, nutrition and beauty, discover Liz Earle MBE's story and enjoy her advice on living well and feeling great with a fascinating Q&A session. Then sit back to enjoy a three-course lunch inspired by some of Liz's favourite healthy recipes. From some delicious, nutritious foodie ideas to her best-kept beauty secrets, you'll discover a whole world of wellbeing on this wonderful afternoon.
Take home a goody bag worth over £50 including a signed copy of Liz's Wellbeing Yearbook – Eat Well, Look Well, Live Well.
To book your ticket, click here.
 16th April 2018
After her recent sell-out talk on gut health, wellbeing expert guru Liz Earle MBE returns to Perch Hill to advise us on what we can all do to balance our hormones and help us look and feel our radiant best before, during and after the menopause, from simple lifestyle changes to eating the right foods.
She is joined in the afternoon by Dr Louise Newson, a GP and menopause expert, who will be sharing her wealth of knowledge on the subject, tackling common myths and misconceptions, and answering your questions.
This fantastic day runs from 10am to 4pm approx, in the Perch Hill marquee. Tickets are available here.
You'll find pictures and updates from Liz's past events on her timeline here.