Ethical Fashion: Liz's inspiring tale from East Africa
Liz writes:
My journey started with Lisa Barratt, an energetic and engaging  Zimbabwean, who heads the Kenyan chapter of the Ethical Fashion Initiative (which also operates in Burkina Faso, Ghana, Mali, Haiti and Palestine) .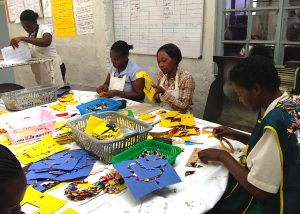 Here the motto "It's work, not charity" is written large, as in her experience "people don't want handouts, they want the dignity of working for a living – all I hear is "give us work" from the women around us". Inside the clean and comfortable headquarters in downtown Nairobi, the mostly female workforce are busy cutting patterns, printing canvas, sewing braids, beading leathers and more.
The traditional image of handcrafted beadwork and bag making has, until now, been seen as rough-and-ready, a bit 'ethnic' and not that sophisticated. Lisa's operation is changing that, with high-end commissions from global fashion icons, such as Britain's Vivienne Westwood and Stella McCartney, Australia's Sass and Bide and Italy's Carmina Campus.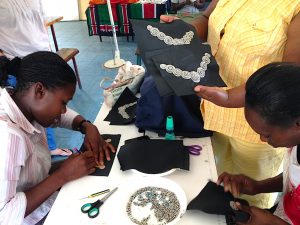 If you're a designer looking for a beautiful fabric bag, you've come to the right place here. I'm surrounded by so many talented people, all highly skilled and trained in a range of techniques, from embossed leather stamping to fine bead work, silk screen printing and even the casting and pressing of brass metal bag finishings.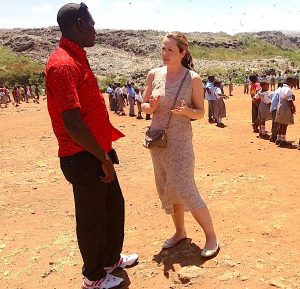 Many of the women who work for the Ethical Fashion Initiative come from the slums of Nairobi. Some don't even have the 'luxury' of slum hosing, but live in makeshift shacks on the enormous, steaming Dandora rubbish dump. Here, in one of the most flagrant violation of human rights in Kenya, over a hundred thousand people are crammed together, each scavenging what scraps they can for survival. Instead of scavenging the waste, those working at EFI are able to earn a living that pays for their children's education (scandalously, even the poorest of the poor have to pay for basic schooling) and for food.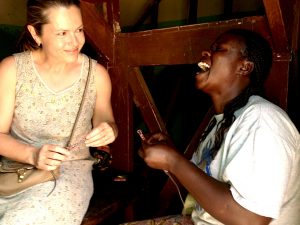 By offering skills training and access to overseas fashion houses, Lisa and her team are providing a real hand-up, not just a hand-out. I was shown the ropes by Violet, one of the senior beaders, busy creating beautiful bracelets for the up-market Los Angeles ready-to-wear and accessories brand, Chan Luu. "I love my job" she beamed, her face breaking into a wide grin as she threw back her head and laughed "just bring us more work – that's all we ask you to do!". More work yes, and more support and awareness too.
If you're involved in the fashion or accessory world, do please share this page and the extraordinary talents of these amazing people. Better still, contact Lisa and the team directly to talk about new ideas and commissions.
Loved this? Read on here:
You can find out more information by visiting their website, or follow what they are up to on their Facebook page.