S2E4: Homegrown roses with Rosebie Morton
Hello and a very warm welcome to another episode of Wellness with Liz Earle. In this episode, Liz is joined by rose enthusiast and founder of The Real Flower Company: the appropriately named Rosebie Morton. Defending the charm of homegrown, traditional garden roses over their more commercial cousins, Rosebie can be found giving guided tours through her beautiful Hampshire paddocks and experimenting with new varieties to add to her already extensive repertoire. She's a champion of buying British flowers as well as sustainable sourcing from much further afield. Listen in as Liz and Rosebie discuss all things roses from the fabulous Margaret Merril to the all important pollinators in need of a helping hand.
You can stream the episode below or download the episode via iTunes or Stitcher:
Topics discussed in the episode: 
Why shop-bought roses are rarely scented.
Where Rosebie's passion for flowers began.
The beautiful Margaret Merril.
How Rosebie started The Real Flower Company.
On buying British flowers.
On growing sweet peas.
Sustainable flower farming and accreditations to look out for.
Bumblebee and pollinator conservation.
Rosebie's top tips for growing roses at home.
More from Rosebie:
The Real Flower Company Instagram
Loved this? Read on here: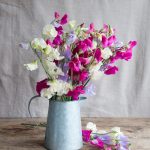 Read Rosebie's top tips for growing sweet peas here.