Dried fruit and spelt menopause cake
Ingredients
100g spelt flour (or wholemeal wheat flour)
100g medium rolled oats
100g soya flour
100g linseeds (also called flaxseeds)
100g raisins
200g pitted dates, chopped
100g apricots, chopped
50g sunflower seeds
50g sesame seeds, lightly toasted
50g flaked almonds, lightly toasted
2 tbsp honey
2 tsp ground ginger
2 tsp cinnamon
4-5 pieces of stem ginger in syrup, chopped
650-750ml soya milk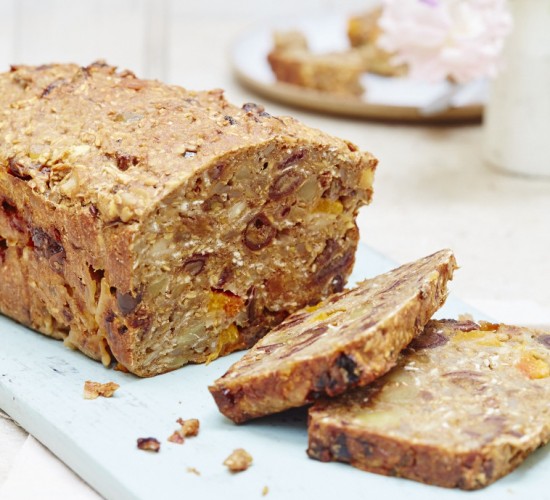 Treat yourself to a slice of Liz's famous menopause cake! Deliciously good for you, it's packed with naturally occurring phytoestrogens, the oestrogen-like compounds found in soya, linseeds and some dried fruits. This cake is not going to sort out all your menopausal needs, but it is a bit of fun to break the ice perhaps when talking about your symptoms (or those of family and friends) over a mug of tea and slice of cake. Made with soya flour, soya milk and linseeds, it's wonderfully rich and moist, with a dense texture and a good, rich flavour. Store in an airtight tin or slice and freeze to eat as required. Very delicious toasted or on its own.
Read more about which foods are best for menopause health.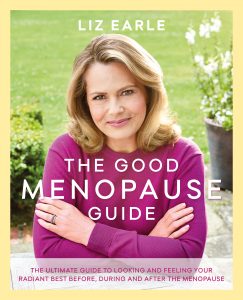 Order your copy of The Good Menopause Guide now for more great tips on how to feel at your best during the perimenopause, menopause and beyond.
Method
Whizz the linseeds in a food processor to crack open, then place all the dry ingredients into a large bowl, along with the chopped stem ginger. Stir in 550ml of the soya milk and the honey and stir until the mixture has fully combined. Leave to soak for half an hour, then add in the remaining soya milk to loosen the mixture to a dropping consistency from the spoon, if needed.
Preheat the oven to 190°C/375°F/gas mark 5. Line a small loaf or round cake tin with baking parchment or silicone paper, and spoon the mixture into the prepared tin (it should drop easily from the spoon – add a little more soya milk if the mixture seems to dry or dense).
Bake for about an hour or until a sharp knife comes out of the centre cleanly to indicate the cake is cooked. Tip out onto a wire rack and leave to completely cook before slicing with a very sharp knife.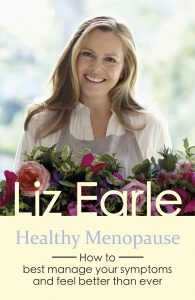 Adapted from Liz's brand new updated e-book, Healthy Menopause: How to best manage your symptoms and feel better than ever, now available to download from Amazon for just £1.99. Packed with Liz's trusted advice on understanding and easing your menopause, this handy mini guide contains the latest research into supplements and HRT together with helpful tips and tricks.  
Wellbeing Wisdom
Be sure to use soya milk rather than dairy, as it contains phytoestrogens which are beneficial during the menopause, helping to keep our hormones a little more balanced
Phytoestrogens are also found in linseeds and some dried fruits