Delicious flowers you didn't know were edible
Adding a floral flourish to a recipe needn't just be decorative. There are whole gardens' worth of edible flowers that can add a depth of flavour to recipes that more common-place herbs and spices cannot achieve. Edible flowers make beautiful and fragrant additions to cakes and sweet dishes, but certain flowers are much better suited to salads and savoury meals. Whether you buy them from the supermarket or pluck them from your garden, edible flowers add an instant elegance to almost any culinary creation. If picking wild flowers, head off the beaten track, as plants which grow on the roadside may be polluted by car fumes. It's also wise to avoid low growing plants in areas frequented by dog walkers. 'Bee' aware that there may be small insects hiding in the flowers you have foraged – to avoid a six-legged surprise, the Royal Horticultural society recommend dipping flowers in a bowl of cold salt water and leaving to dry before adding to food. Read on to find out where to buy edible flowers and which floral flavours to add to your next dish.
 Chive flowers
If you buy chives pre-packaged in the supermarket, you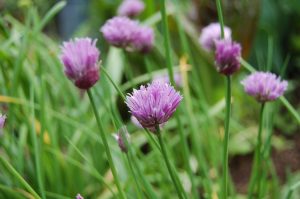 may not be aware that they have beautiful pink pom pom-like flowers, which are very popular with bees. Chive flowers have a subtle, onion-like flavour which is delicious in a salad. If using fresh-cut chives in a potato salad, why not add the flowers on top to enhance the flavour and add an elegant touch to a stodgy salad? Chives are easy to grow and you don't need a vast garden – simply grow them from seed in a pot on a window ledge.
Basil flowers
We love using freshly cut basil to make a pesto or liven up a simple tomato sauce, but we rarely think to use the flowers. If you grow basil at home, keep an eye out for its flowers as letting them grow too long will result in a straggly plant with sparse leaves. Trimming back their blooms will enable the basil to focus its energy on producing more leaves, resulting in a lovely full plant. Fear not if you've left your basil to bloom as the flowers are delicious, with a similar, yet slightly milder flavour than the leaves. Infusing olive oil with basil flowers is a particularly delicious way of enjoying them. Simply rinse the flowers, place in the bottom of a sterilised glass jar, cover them with oil and leave to infuse for two weeks to a month. You can keep adding blooms to your infusion whenever you prune your basil plant, just ensure they are fully submerged in the oil, which will prevent them from going mouldy.
Wild garlic flowers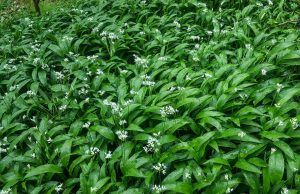 Abundant in May and June, you might be able to smell the earthy, garlicy scent of this delicious plant before you look down and see it. Wild garlic abounds in damp conditions, so you may well spot it in your local woodland. The leaves have a number of health benefits, and we particularly enjoy eating them in a fresh wild garlic pesto, but did you know they have edible flowers too? The delicate white flowers have a delicious peppery flavour, which is delicious served in salads or on top of pasta dishes.
Courgette flowers
While courgettes themselves aren't the most striking-looking vegetable, their papery orange flowers are truly eye-catching. The cup-shaped flowers make them an ideal vessel for stuffing. Try them the Italian way, stuffed with ricotta and herbs and lightly fried or for a decadent treat, dipped in batter and deep fried, then served on a rich tomato sauce. You can buy seeds to grow your own here.
Elderflower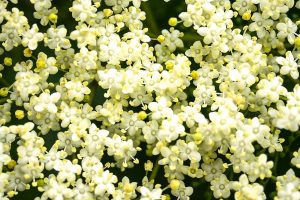 The frothy, delicate heads of the elder tree are prolific between mid-May and June. You will find them in abundance overhead on footpaths and in the woods at this time of year, so there's no need to splash out on expensive cordial when it is so easy and cheap to make your own from your foraged findings. Follow our recipe to make a big bottle of delicious, sweet cordial that can be kept in the fridge to keep you refreshed all through summer. If serving at a summer party, top the cordial up with floral ice cubes filled with scented geraniums (pelargonium), rose petals, borage or pansies.
Primroses
Sugared primroses add a gorgeous touch to any cake, particularly if your icing skills aren't up to much. Primroses are so easy to preserve, simply wait until they are fully dried after cleaning, then use a new, clean paintbrush to gently coat the flowers (front and back) with a mixture of one egg white and a teaspoon of cold water before dipping them in a bowl of granulated sugar. Leave them to dry for up to two days to ensure they stiffen up perfectly. You can also use this method to make sugared violets and rose petals.
Lavender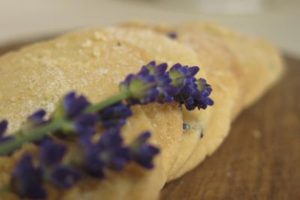 While many of us may associate the soothing scent of lavender with soap, it actually makes a wonderful addition to drinks and desserts. Used sparingly, it has a sweet, delicate flavour which works beautifully in this buttery shortbread recipe as well as brightening up a plain biscuit with a tell-tale flash of purple. For a delicious treat, add lavender to iced tea for a refreshing cooler on a hot day. If you don't have a lavender plant in your garden, edible lavender can be bought online and from well-stocked supermarkets.
Loved this? Read on here…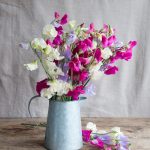 – How to grow beautiful sweet peas
– Liz's top tips for foraging this spring