Dark chocolate and almond cake
Ingredients
120g unsalted butter
240g caster sugar
2 large eggs
1 tsp vanilla bean paste
4 tbsp cocoa powder, sifted
100g ground almonds
1 tsp blood orange zest
2 tbsp flaked almonds
1 orange, zest, to garnish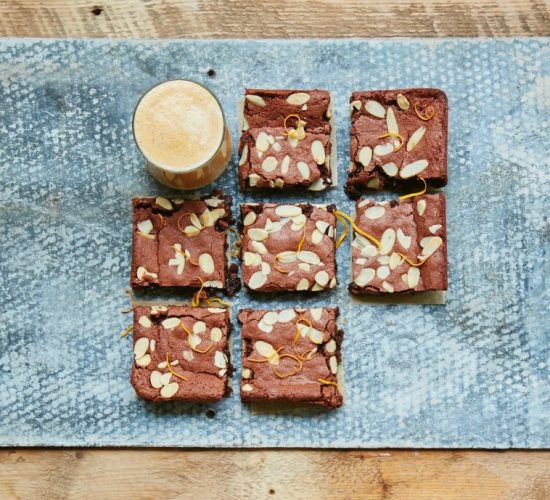 Nothing beats a square of this rich, gooey kladdkaka, a dark chocolate and almond cake recipe from Sweden. Enjoy it washed down with a cortado – a Spanish coffee that consists of equal parts espresso and warm milk (often steamed, but not too frothy).
Method
Grease and line a 20cm x 20cm square tin. Preheat your oven to 190°C/375°F/gas mark 5.
In a saucepan, melt the butter and leave to cool. In a mixing bowl, whisk together the sugar, eggs and vanilla bean paste for 3-4 minutes until light and fluffy. The mixture should hold its shape for a couple of seconds when you trail the whisk across the surface.
Gently fold in the cocoa powder, ground almonds and orange zest until just incorporated. Finally, add the cool, melted butter and mix again until you have a thickish batter. Pour the mixture into the prepared tin and sprinkle over the flaked almonds.
Bake for 20-25 mins. It will puff up a little and there should be a very slight wobble in the centre, even though the sides are firm. Allow the cake to cool slightly then remove from the tin and decorate with the orange zest. Cut into squares to serve.