Turmeric cauliflower salad with vegetable noodles
Ingredients
500g cauliflower florets
3 cloves garlic, skin on
1 tbsp turmeric
2 tsp coriander seeds
1 tsp cumin
1 red chilli, thinly sliced (optional)
1/2 lemon, juice and zest
4 tbsp olive oil
30g kale
60g almonds
Salt and cracked black pepper
Fresh parsley to serve
For the vegetable noodles
1 large raw beetroot
2 courgettes
2 tbsp olive oil
Handful of fresh flat-leaf parsley
1/2 lemon, juice
For the dressing
2 tbsp Greek yoghurt
2 tbsp olive oil
1/2 lemon, juice and zest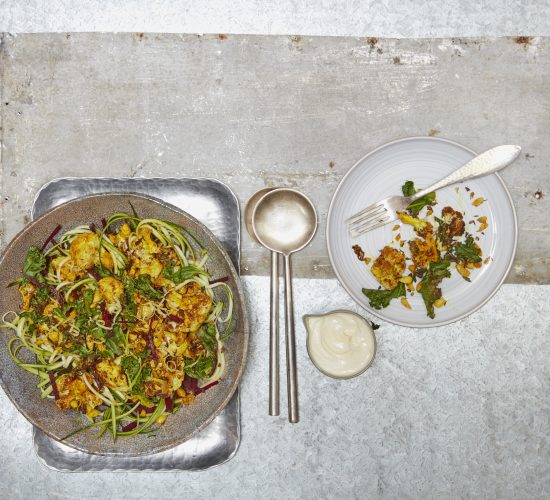 Liz says:
The golden goddess of the spice world, turmeric (Curcuma longa) has long been revered in South Asian culture for its use in the kitchen and traditional medicine. It is still often hailed as a 'super spice' that cures all ails. This warming crispy roasted turmeric cauliflower salad with almonds, kale, vegetable noodles and a lemon zest dressing is the perfect way to enjoy turmeric's many wellbeing benefits. I especially like the organic turmeric powder by Stay Fresh Organics which is also non-irradiated.
Method
Preheat the oven to 190°C/375°F/gas mark 5. Place the cauliflower and whole garlic cloves onto a roasting tray. In a bowl, mix together the turmeric, coriander seeds, cumin, chilli, half the lemon juice and 3 tbsp of olive oil. Massage the oil mixture into the cauliflower, grate over half a lemon zest and season with salt and pepper before placing in the oven for 20 minutes, checking halfway through to mix it together.
When the cauliflower is golden and cooked through, add the kale and almonds on top, massage in 1 tbsp of olive oil, and then place in the oven for a further 5 minutes, until the kale is crispy and the almonds toasted.
As the cauliflower cooks, spiralize the courgettes and beetroot (or thinly slice lengthways). Drizzle 2 tbsp of olive oil, a squeeze of lemon and season well.
Pile the courgetti on a serving platter, followed by the roasted cauliflower, kale and almonds. Take the whole garlic cloves out of the roasting tin, peel and mash them in a bowl with the Greek yoghurt, olive oil and lemon juice for the dressing.
Drizzle the dressing over the cauliflower salad and serve with fresh parsley.
Discover a caffeine free alternative to your daily coffee with this aromatic turmeric coconut latte recipe.
Wellbeing Wisdom
Turmeric's active compound 'curcumin' has been shown to have antibacterial, antioxidising, and anti-inflammatory properties
Studies have shown that turmeric may help to reduce our risk of depression, asthma, eczema and even cancer