Chilli, lime and feta butter recipe
Ingredients
150g good-quality butter (salted)
1 red chilli, finely chopped
2 limes, zest
100g feta cheese, crumbled
Handful of parsley, finely chopped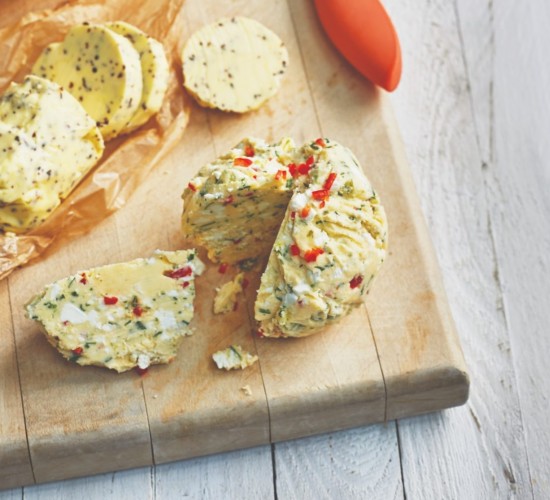 Looking for something to jazz up a humble slice of bread? Look no further than our chilli, lime and feta butter recipe.
It's super easy to make this butter recipe too. You just need quality butter from grass-fed cows and a few ingredients to make a staple that'll last in the fridge for a week.
Spread over sourdough bread for a delicious pop of flavour – it also goes brilliantly well with a few crackers. And that's not all – we love to cook with this butter too. Add flavour to simple vegetable dishes for meals with a bit of a kick.
We've used one red chilli here for flavour, but use as much or as little as you like depending on how much heat you can handle.
Love this recipe? Try these
Method
Make sure your butter has been out of the fridge for around an hour and has started to soften. With a wooden spoon, beat the butter until it is soft, then add in the chilli, lime and feta.
Scoop out the flavoured butter on to baking parchment. Either bunch the parchment tightly so the butter forms a tight ball, or roll the butter into a sausage shape in the paper, twisting the ends to seal.
Seasoned fresh butter will keep for a week or more in the fridge, or a few months in the freezer.