Cheesy stuffed mushrooms
Ingredients
4 large Portobello mushrooms, wiped clean
200g grated hard Pecorino cheese or similar (some find sheep's milk cheese easier to digest)
50g wholemeal breadcrumbs
1 tbsp wholegrain mustard
2 cloves garlic, crushed and finely chopped
1 tsp dried mixed herbs
Salt & ground black pepper
2 tbsp low fat crème fraîche
Extra flat-leaf parsley to garnish, chopped
Lemon wedges to serve (optional)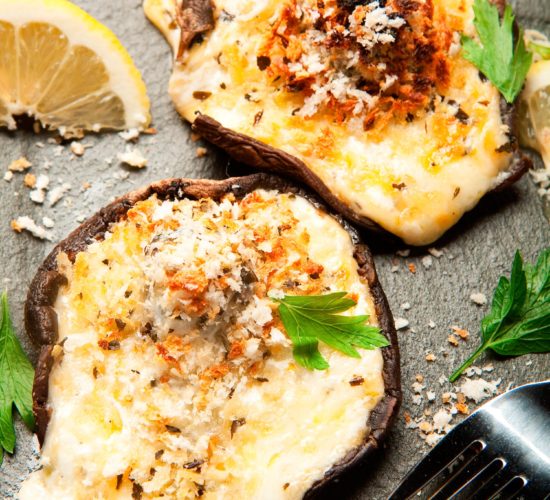 Try this delicious simple recipe for lunch or supper, and make the most of fabulous fungi (you can read more about the many health benefits of mushrooms here). We've used single large Portobello mushrooms here, but you could use smaller brown mushrooms and pile a few on to a plate either as a main course or as a tasty side dish.
Method
Heat the oven to a medium heat (180˚C/350˚F/gas mark 5), place the mushrooms on a baking tray and brush with a small amount of olive oil. Bake for 10 minutes.
Meanwhile, make the stuffing mixture by mixing together the grated cheese, breadcrumbs and all the seasonings (mustard, garlic, herbs, salt and pepper). Stir in the crème fraîche to form a smooth, thick paste.
Remove the mushrooms from the oven and stuff with the mixture before returning to a hot grill to melt and cook through. When golden brown, remove from the grill and serve piping hot with a scattering of chopped parsley and a squeeze of fresh lemon.
Wellbeing Wisdom
Mushrooms are relatively low in calories, yet their high protein content makes them satisfy your appetite
They are also packed with vitamins and minerals, including all the B vitamins, selenium and zinc, vital for a healthy immune system