Charred brussels sprouts with tahini
Ingredients
200g pearl barley
1 lemon, halved
12 Brussels sprouts, trimmed and halved
1 tbsp olive oil
1/2-1 tsp ground cumin
50g pine nuts
1 medium preserved lemon, rinsed (optional)
1/2 red onion, finely sliced
1/2 garlic clove
30g tahini
100g soya yoghurt
1/2-1 tsp chilli flakes
30g dill, leaves roughly chopped
30g flat-leaf parsely, leaves roughly chopped
220g vine tomatoes, seeds removed, diced
6 Medjool dates, stones removed, sliced
Sea salt flakes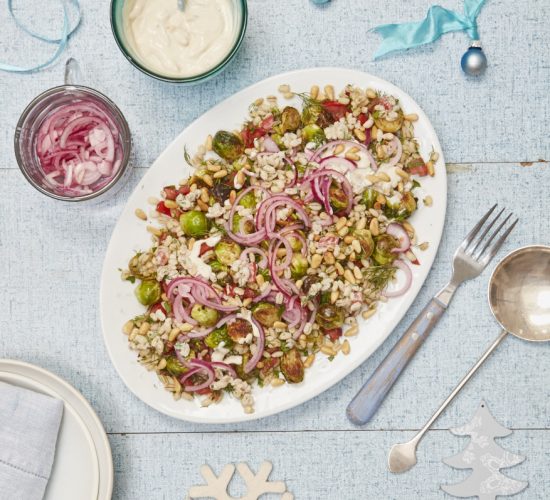 Salads aren't just for summer. This filling salad, packed with Brussels sprouts, is a great way to pack in nutrients when the cold weather hits and you need them most.
Method
Bring a medium pan of water to the boil and pre-heat the oven to 220°C/425°F/gas mark 7. Cook the barley and one lemon half in the water for 30 minutes until cooked through but still chewy and tender. Refresh under cold water, drain and set aside.
Meanwhile, place a single layer of Brussels in a large tray and toss in the olive oil, cumin and a pinch of salt. Roast for 15-20 minutes or until charred at the edges. Add the pine nuts to the corner of the baking tray for the last 3-4 minutes or until golden. Transfer the Brussels and pine nuts to a plate and cool.
Next, juice the remaining lemon half into a small bowl along with the red onion and a pinch of salt. Set aside to lightly pickle. Cut away the peel from the preserved lemon, finely slice (discard the flesh), then add to a large mixing bowl. Crush in the garlic then stir in the tahini, soya yoghurt, chilli flakes, dill, parsley, tomato, cucumber and dates.
Scoop the boiled lemon flesh from the pearl barley. Add seasoning to taste. Spoon the pearl barley on to a large platter, then top with the charred Brussels, pine nuts and pickled red onion.