Cauliflower and butterbean cocktail recipe
Ingredients
1 tsp saffron strands
4 tbsp good-quality (preferably homemade) mayonnaise
1 tbsp Worcestershire sauce (optional)
1/2 tsp Tabasco sauce (optional)
1 tsp smoked paprika
1-2 tsp tomato ketchup
Lemon juice
10 small cauliflower florets
Glug of olive oil
4 tbsp butter beans
1 red chicory, halved lengthwise
1 baby gem, shredded
4 cherry tomatoes, halved
2 tbsp pomegranate seeds
1 tbsp dried rose petals
Sea salt and black pepper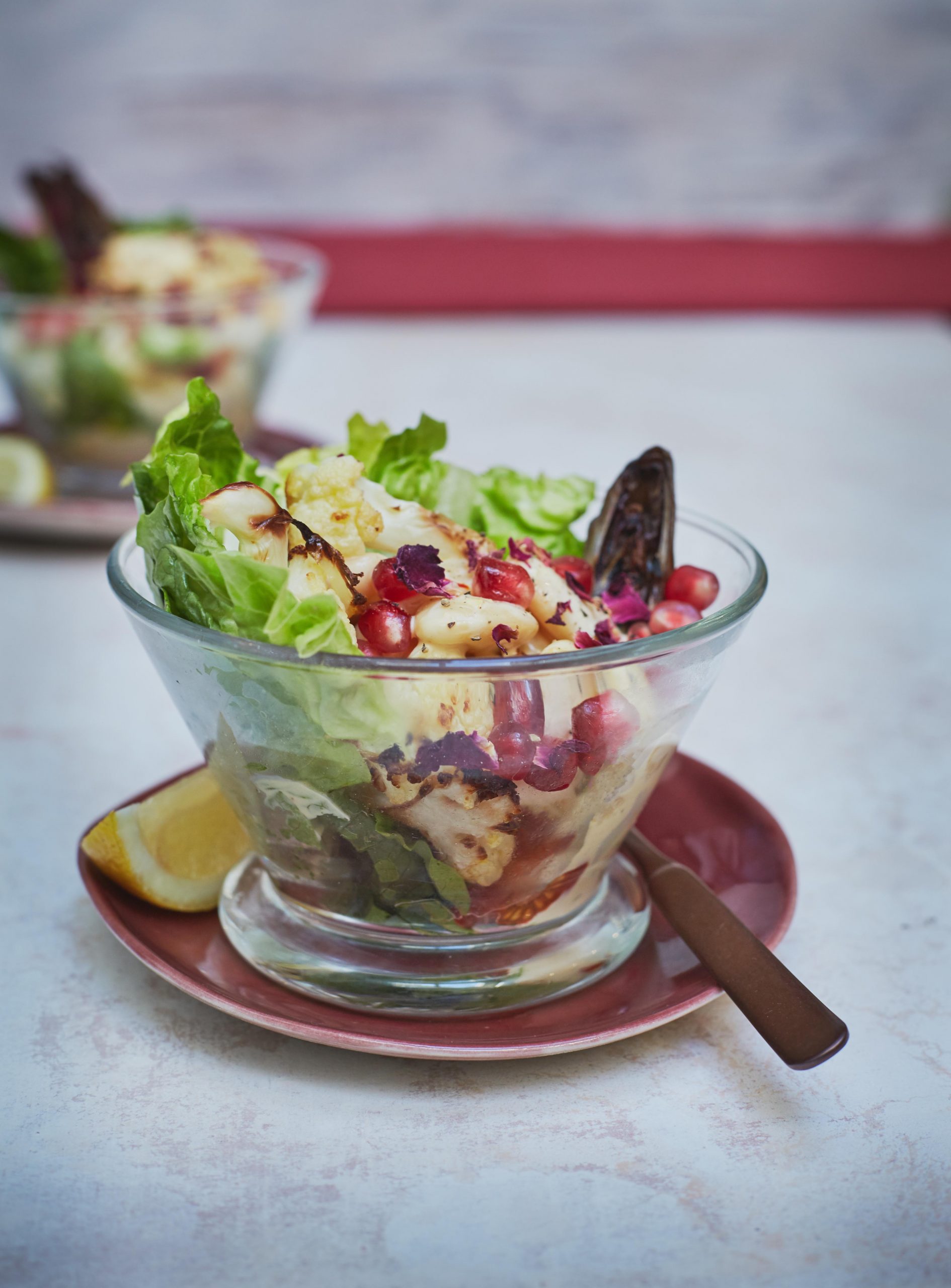 This cauliflower and butterbean cocktail provides a refreshing, modern vegetarian twist on the retro prawn cocktail. Enjoy as a starter or light lunch.
Method
First make the Marie Rose sauce. Grind the affron in a pestle and mortar, then put in a cup with a little water and mix to a paste. Mix together the mayonnaise, Worcestershire sauce, Tabasco, paprika and ketchup, then stir in the saffron water, taste and add lemon juice, and salt and pepper if needed. Loosen the sauce with a splash of water and set aside somewhere cool.
Blanch the cauliflower in boiling water for a few minutes until starting to soften but still al dente, then drain. Toss in a little olive oil, season well and roast in a hot oven until starting to turn golden (or you can griddle them in a pan if you prefer). Leave to cool.
Toss with the butter beans and a tablespoon of the sauce and set aside. Dust the chicory in icing sugar, then place face-down on a hot griddle pan until starting to get nice grill lines, then remove from the heat.
Put the chicory in bowls with the shredded lettuce and tomatoes, top with the cauliflower and beans, and drizzle over the sauce. Add the pomegranate seeds and give a final twist of pepper. Scatter all over with rose petals and serve immediately.
Loved this? Read more: 
Asparagus, fennel, radish and pea salad with pine nuts