Caramelised apple and walnut lattice pie
Ingredients
125g cold butter, cut into chunks
250g spelt flour
1 lemon, zest only
25g ground walnuts
1 egg yolk
Pinch of salt
1-2 tbsp water
1 egg, lightly beaten
120g butter
120g light muscavado sugar
200ml cream
5-6 apples, peeled, cored and cut into rings
100g walnuts, roughly chopped
1 tsp sugar for sprinkling
Crème fraîche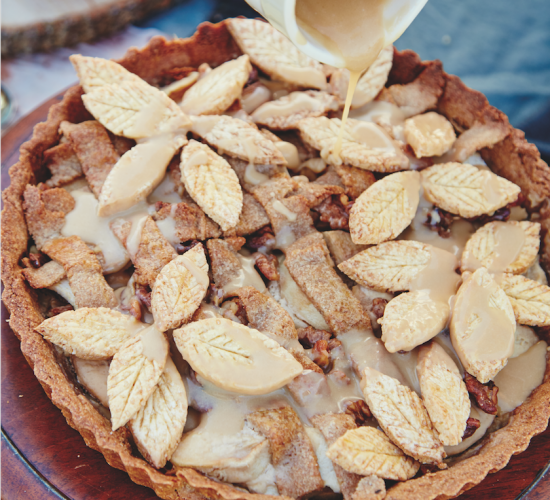 Looking for another way to use up those delicious autumn windfalls? This caramelised apple and walnut lattice pie is a real showstopper, perfect for pudding after a warming Sunday roast.
Method
1. In a bowl, rub the butter and flour together with your fingers, until it resembles breadcrumbs. Add the sugar, zest and ground walnuts, mixing together lightly before adding in the egg yolk and salt, and bringing it together slowly with your hands. Add 1-2 tbsp of cold water so the mixture binds to form a dough. Alternatively, use a food processor, pulsing slowly until it forms a ball. Place the dough in a bag or covered bowl and pop in the fridge for around 15 minutes.
2. Preheat the oven to 180°C/350°F/ gas mark 4. Roll out 3⁄4 of the pastry to about 3mm thick and line the tart tin – trimming the edges. Keep the trimmings to one side for the topping. Prick the base all over with a fork and refrigerate for ten minutes.
3. Take the pastry case out of the fridge, line with baking parchment and baking beans and pop in the oven for 15 minutes. When it's starting to cook through, take out of the oven and remove the baking beans and parchment. Brush the base with beaten egg and pop back in the oven for another five minutes to seal the bottom. Keep remaining egg for later.
4. For the caramel sauce, melt the butter over a medium heat in a small saucepan before adding in the sugar and stir. Turn the heat up to high and bring to a boil, stirring to melt the sugar until the mixture starts to become foamy. Add the cream and stir until it's smooth. Add a pinch of salt, stir and remove from the heat.
5. Arrange the apples on the bottom of the tart, stopping two-thirds of the way up to sprinkle over the chopped walnuts. Pour half the caramel sauce over, setting the rest aside for serving and to stick the leaves on with.
6. Roll out the remainder of the pastry and cut out nine 1cm strips and as many leaves as you like from the remaining pastry. Carefully drape the pastry strips across the apple and walnut filling in a lattice pattern – four in one direction and five in the other. Brush the tart and leaves with the remainder of the beaten egg and sprinkle with sugar.
7. Place the tart in the oven on a tray and bake for 45 minutes or so until the pastry is golden brown and the filling is bubbling. Check after 30 minutes and add the leaves to the tray to bake separately for 10-15 minutes. When the tart and leaves are cooked, carefully remove from the case and stick on the pastry leaves with a little caramel sauce. Serve with the rest of the caramel sauce and crème fraîche.