Bucatini pasta with red chicory and red onion
Ingredients
150g bucatini
5 tbsp olive oil
1 red onion
2 cloves of garlic, crushed
140g red chicory, roughly chopped lengthways
80g Stilton
50g walnuts, roughly blitzed or chopped and toasted
Drizzle of honey
Sea salt
Ground black (or pink) peppercorns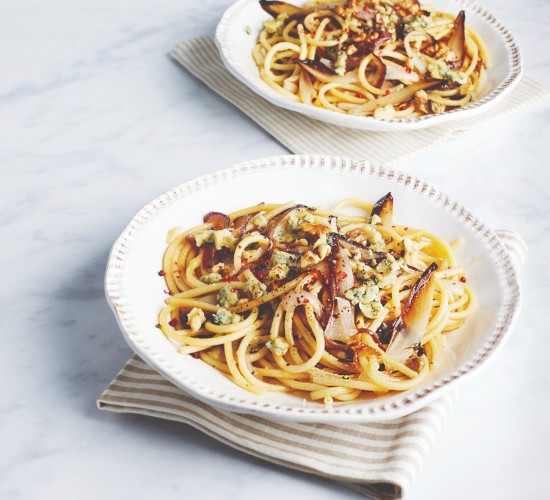 This bucatini pasta dish is an easy go-to for a midweek meal. It's so simple that you won't even think about reaching for a jar of ready-made sauce ever again!
Combining the flavours of chicory and red onion, this vegetarian bucatini pasta recipe is finished with creamy blue cheese and crunchy walnuts for an easy yet satisfying meal.
Plus, with cloves of garlic crushed in the recipe, you can ensure you're getting some much-needed wellbeing benefits. Garlic is packed with vitamins and minerals, including manganese, selenium and vitamin C. Research has also suggested that garlic may help to slightly lower blood pressure, and it may also play a role in reducing the risk of heart attack.
While we've used bucatini here, linguine or shorter pasta also works well.
Discover more pasta recipes
Method
Cook the pasta according to instructions, in salted water.
Meanwhile, glug the olive oil into a large frying pan and add the onion. Slowly bring up to a medium-low heat and sauté the onion for at least 15 minutes until it's soft and starting to caramelise. Add in the garlic and stir well. Season with salt.
When the onions are starting to caramelise and the pasta is almost cooked (in its respective pan), add in the chicory, cooking for a further five minutes until it starts to soften and go golden.
Drain the pasta and empty it into the big pan with the chicory and onion (which by now should be caramelised and cooked). Mix it together well, then add in half the Stilton, letting it melt in.
Serve the pasta with tongs, and crumble over the remaining Stilton with the walnuts. Finish with a drizzle of honey, some sea salt and twist over some black (or pink) peppercorns.