Brussels sprouts with hazelnut and orange
Ingredients
500g Brussels sprouts
1 tbsp olive oil
3 cloves of garlic, finely chopped
50g hazelnuts
1 orange, juice & zest
Handful of walnut halves (to garnish)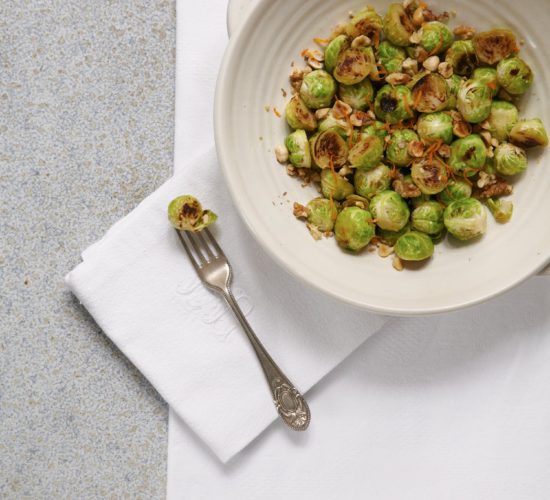 A true Christmas roast would not be complete without a large helping of Brussels sprouts. Not only are sprouts a delicious accompaniment to turkey, but they provide you with many health benefits as they are excellent sources of dietary fibre, folate, potassium, manganese and vitamins A, C, K and B6. They will also give you a good helping of thiamin, riboflavin, iron, magnesium, phosphorus and copper, whilst being low in saturated fats and cholesterol. Try this tasty Brussels sprouts recipe for a nutty and festive dish.
Method
Trim and slice up the Brussels sprouts into halves. Heat up the olive oil and sauté the garlic in a saucepan. Chop up the hazelnuts into small chunks and add them in with the garlic – let it all cook together for a few minutes.
Then add in the Brussels sprouts, the orange juice and zest. Continue cooking for about 5-6 minutes until the sprouts start to soften and go golden, then add a few tablespoons of water, put a lid on the pan and allow to cook on a low heat for another 5 minutes until the sprouts are tender. Finish with a sprinkling of walnuts on top.
Wellbeing Wisdom
Brussels sprouts are an excellent source of fibre, folate, potassion, manganses and Vitamins A, C, K and B6
They are also low in saturated fat and cholesterol