Broccoli, spinach and pea soup with tortellini
Ingredients
Light olive oil, for frying
20g butter
1 onion, finely chopped
2 garlic cloves
2 carrots, finely chopped
1 head broccoli, cut into small florets
1L vegetable stock
200g frozen petit pois
100g spinach
50ml half-fat crème fraîche
30g flat-leaf parsley
200g tortellini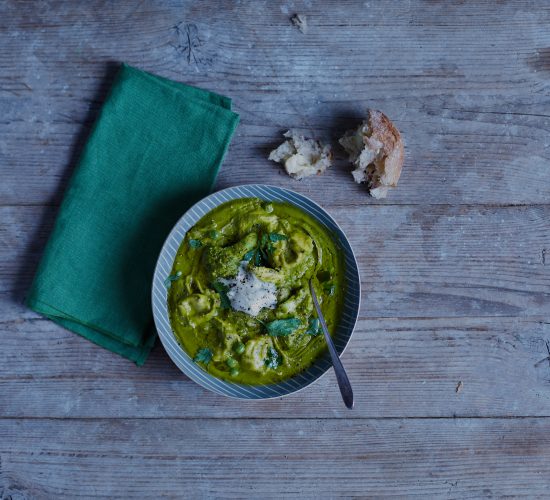 Method
1. In a large saucepan, heat a glug of oil and melt the butter over a medium heat. Add the onion, garlic and carrots. Gently fry for ten minutes, then season and add half the broccoli. Gently stir with a wooden spoon for a few minutes, then add the stock.
2. Simmer the soup for 15 minutes until all the veg is nearly tender, then add half the peas and all the spinach. Simmer for a couple of minutes more. Pour the soup into a blender, season with salt and pepper and add half the crème fraîche and half the parsley. Blitz until smooth.
3. Pour the soup back into the saucepan and add the reserved peas and broccoli with the tortellini. Gently heat over a medium heat until simmering. Cook for five minutes until the beg and pasta are al dente. Split between bowls and garnish with the remaining crème fraîche and herbs.
Top tip: This soup is best eaten straight away, as the pasta will be too soft if reheated.
Wellbeing Wisdom
This vivid green soup is rich in fibre, B vitamins and iron.