Beetroot and swede fritters with mint yoghurt
Ingredients
400g swede, peeled and diced
400g beetroot, peeled and diced
1 onion, finely chopped
2 garlic cloves, crushed
1 tsp ground coriander
1 1/2 tsp ground cumin
400g tin chickpeas, drained
3 tbsp plain flour
30g bunch flat-leaf parsley
4 mediu free-range eggs
6 rashers streaky smoked bacon
2 tsp runny honey
Chilli oil to serve (optional
For the yoghurt
200g Greek yoghurt
2 tbsp chopped flat-leaf parsley
2 tbsp chopped mint
1 lemon, juice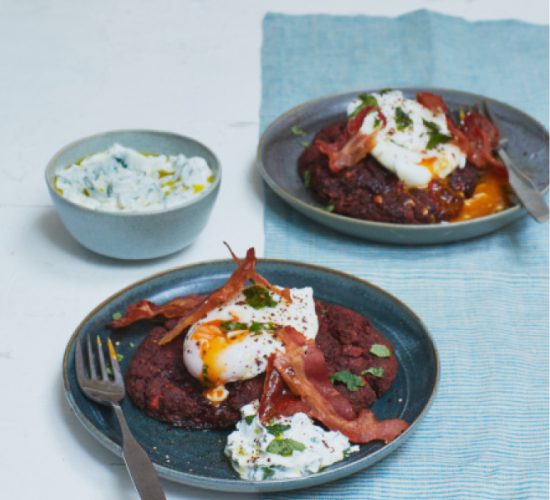 Beetroot is a wonderful vegetable that has many health benefits. These fritters make a delicious weekend brunch or a light lunch served with an oozing free-range egg. To make this dish veggie, replace the bacon with grilled squares of feta drizzled with honey. You will only need to grill the feta for five minutes.
Method
Heat the oven to 200°C/400°F/gas mark 6. Boil the swede and beetroot for 45 minutes until tender. Drain and place into a food processor.
Meanwhile, in a frying pan, heat a glug of oil and fry the onion for five minutes, then add the garlic, ground coriander and cumin, frying for a further three to four minutes. Set aside.
Add the onion mix to the food processor with the swede and beetroot, chickpeas, flour and seasoning. Blitz, then scrape into a large bowl and stir through half of the parsley. Shape into patties and put on a lined baking sheet and bake in the oven for 20 minutes.
Remove the patties and put the bacon on. Drizzle with honey, then grill on a medium-high heat until the bacon is crisp. Boil a pan of water for the eggs.
Mix the yoghurt ingredients together and set to one side. When the pan of water is boiling, swirl the water and crack in two eggs. Turn the heat down to low and let the eggs gently poach for two or three minutes. Remove with a slotted spoon on to kitchen paper and repeat with the other two eggs.
To serve, top the patties with the yoghurt, eggs and bacon. Garnish with parsley and a drizzle of chilli oil, if using.