Beetroot and maftoul salad
Ingredients
400g beetroot
1 tbsp olive oil
150g maftoul (or giant cous cous)
1 red onion, chopped
1 tbsp red wine vinegar
2 tbsp olive oil
250ml yoghurt
2 tbsp mint, chopped
1 apple, ppeled and grated
2 tsp cumin seeds, roasted and ground
1 tbsp toasted pine nuts
1 tbsp toasted sunflower seeds
50g baby spinach leavse
1 avocado, stoned and chopped
100g cooked broad beans
2 radishes, grated
1 tsp za'atar
1 tbsp mint and dill, chopped
Salt and pepper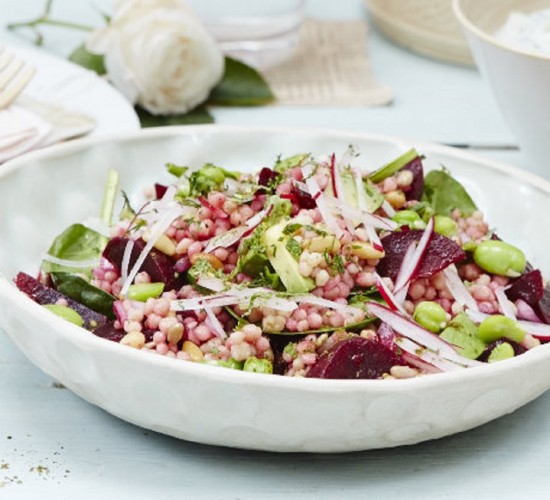 This beetroot and maftoul salad is teaming with contrasting textures from the crunchy red onion and radish to the creamy avocado, smooth yoghurt and the bite of filling maftoul. Maftoul is a giant Palestinian cous cous, made from sun-dried bulgur wheat.
Method
Pre-heat oven to 160°C/325°F/gas mark 3. Wash the beetroot and toss in olive oil. Place on a baking tray and add 100ml water. Season well, cover tightly and bake in the oven for an hour or until the beetroot is tender. When cool enough, rub off the beetroot skin and chop into 1-2 cm chunks. Season well.
Rinse the maftoul (or giant cous cous, if using). Cover with water and simmer for 10 minutes, or as per instructions on the packet. When cooked, season well and toss with the red onion, vinegar and olive oil.
Mix the yoghurt with the mint, apple and cumin.
Toss the beetroot with the maftoul, nuts, seeds, spinach, avocado and broad beans. Drizzle with the yoghurt and sprinkle with the radishes, za'atar, dill and more mint.
Loved this? Read on here: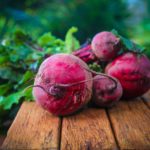 – For more great vegetarian recipes, have a read of our favourite vegetarian starters.
Wellbeing Wisdom
Beetroots are a good source of folic acid which helps your body to produce and maintain new cells.