Beauty boost bars with seeds and cranberries
Ingredients
50g each of dates, dried apricots and sunflower seeds
100g raisins
100g porridge oats
30g chia seeds
25g medium oatmeal
20g linseeds
25g goji berries and/or dried cherries
25g dried cranberries
1 lemon, juice and zest
2 tbsp cold-pressed rapeseed oil, plus a drizzle to grease the tin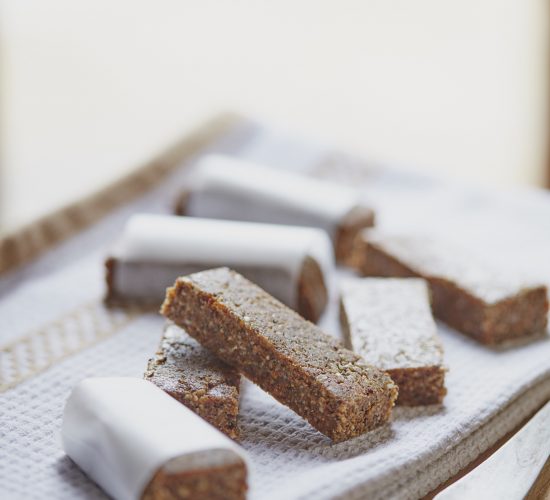 These healthy snack bars are not only quick to make but a real beauty boost, packed full of nutritious, skin-plumping goodness. These bars are also a great way to balance out your hormones as the linseeds, chia and sunflower seeds contain phytoestrogens. Make a batch ahead of the week so you have something delicious to reach for in a low-energy slump.
Method
Whizz all of the ingredients in a food processor until it forms a firm dough ball, then press lightly into a lightly oiled loaf tin or baking tray.
Press the dough down to a thickness of around 2cm, then refrigerate for an hour or so before cutting into cubes.
Alternatively, roll the dough into a thick sausage shape and cover with tin foil, then cut a slice from the tube as and when you need it.
Loved this? Why not try:
– Liz's dried fruit and spelt menopause cake
Wellbeing Wisdom
High in soluble fibre, which helps keep us regular, linseeds are an excellent source of omega-3 fatty acid, which keeps our skin plump
Linseed also contains lignans – soluble fibres which can help rebalance oestrogen levels and fend off dreaded menopausal hot flushes