Login to view this article
A few of our features and recipes are exclusive for our newsletter friends here at Liz Earle Wellbeing. If you'd like to join them, it takes seconds to sign up, it's completely free to do so, and you'll receive:
Instant access to all our website content
A personal 'My Wellbeing' page to save your favourite recipes.
A monthly newsletter where you'll be the first to find out about our exclusive offers, events and competitions.
The best foods for younger looking skin
Want to achieve smoother, younger looking skin? The secret may lie in our kitchens, as well as our vanity cupboards. Here, Liz shares her favourite skin-saving foods, guaranteed to achieve a gorgeous glow from the inside out.
Nuts and seeds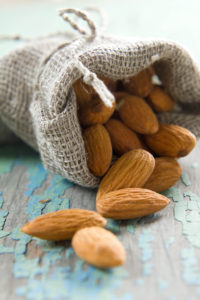 Excellent sources of vitamin E, nuts and seeds are one of the best foods for younger-looking skin. Almonds are one of Liz's all-time favourite skin-friendly foods; just a small handful of protein-rich almonds contains half of our recommended daily intake of the skin-saving antioxidant vitamin E. Try incorporating them into as many dishes as possible – substituting them into recipes that call for other nuts. Use almonds in their skins for maximum benefit. Sunflower seeds are another superb skin food: they contain magnesium, selenium and copper as well as vitamin E – a perfect combination for soft, plump skin. Sprinkle onto cereals, yoghurts and salads for an extra beauty boost.
Oily fish
Bursting with the skin-friendly EPA and DHA healthy fats, eating oily varieties of fish is a great way to keep our skin smooth and even help skin disorders such as psoriasis and rosacea. These essential fatty acids work to keep our skin moisturised and supple, as well as helping to control skin inflammation. And with a healthy dose of vitamin E, oily fish also helps prevent free radical damage. Choose sustainable options such as mackerel, herring, pilchards, sardines, and salmon.
Yoghurt and kefir
Thanks to the healthy bacteria that the probiotics in yoghurt encourage, this fermented milk is not only delicious but very useful for keeping our skin radiantly clear and our gut in good health. A healthy gut improves our levels of skin-friendly flora, which in turn leads to smoother, clearer skin. One of Liz's favourite skin food tips is to drink kefir, a Middle Eastern yoghurt drink, made when kefir grains (a type of fermentation starter) are added to milk or similar liquids. Yoghurt, buttermilk sour cream and kefir are also good sources of lactoferrin, a protein found in lactic acid, which helps control inflammation and is especially helpful for controlling breakouts and improving acne.
Berries
Dark-skinned berries are especially good for our skin thanks to their purple pigment, which is a sign of their high anthocyanin content. This antioxidant flavonoid helps fight the free radical damage that leads to premature skin ageing and the early appearance of wrinkles. Blueberries, blackberries, cranberries, raspberries, red and blackcurrants, black grapes and cherries are amongst the best berries we can eat for younger-looking skin.
Eggs
Eggs are one of the most perfect forms of skin-friendly protein – and the organic, free-range varieties provide a powerhouse of vital nutrients to help plump our skin. Eggs are also a good source of selenium, essential in the manufacture of collagen to support our skin as we age, leading to plumper, younger-looking skin. Selenium also works with vitamins E and C to help prevent sun damage and age spots. A big fan of organic eggs, Liz says that an egg a day keeps bad skin at bay!
Vegetable oils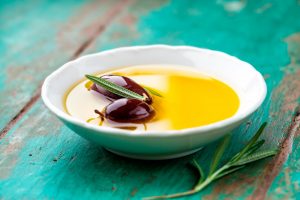 Mono-unsaturated cooking oils, such as olive and rapeseed oil, are excellent news for our skin as they contain the vitamins and essential fatty acids that help our skin function to its best ability. They contain high levels of vitamin E, which plants produce for their own seeds to help prevent oxidation. Plants that have exposed seeds need to produce more vitamin E to protect themselves, so flax and rapeseed oil are among the best oils for our skin. Similar in structure to the oils found in oily fish, flaxseed oil is a great substitute for vegetarians or those who don't like fish.
Grass-fed beef and lamb
Omega-3 fatty acids are essential for fighting inflammation, which is important when trying to keep skin youthful and smooth. Pasture-fed beef and lamb contain these good fats, as well as another important fat, conjugated linoleic acid (CLA), which can help tone the skin. Of course, the vitamin E here is also excellent for our skin and grass-fed beef and lamb contain plenty of this fat-soluble nutrient to fight free radicals and keep skin looking younger for longer. Red meat is also a good source of easily absorbable iron, essential for giving skin a healthy glow and helping red blood cells transport vital oxygen around the body.
Loved this? Read more here: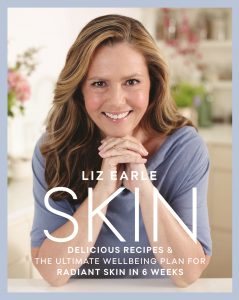 For more top tips for younger-looking skin, see Liz's SKIN book
The best plant oils for your skin
Wellbeing Wisdom
Flax and rapeseed oil are among the best oils for our skin, high in vitamin E
Eggs are a good source of selenium, essential in the manufacture of collagen to support our plumper, younger-looking skin