Beauty benefits of rose water and rose oil
Shakespeare wrote about their splendour and Cleopatra was said to have incorporated them into her beauty regime. Known as the Queen of Flowers, it is hard to beat the rose for its perfume and sheer beauty. But did you know that there are a number of beauty benefits of rose water too?
Of the many varieties of roses grown, Rosa damascena gives us some of the most wonderful scent. This variety is grown for rose water throughout the Middle East. It's named after the town of Damascus in Syria, famed for damask silk woven in pink shades to match the flowers.
First used in perfumery, pure rose oil is frighteningly expensive as it takes around 110kg (250lb) of petals to produce a single ounce of concentrated essential oil. A labour-intensive process, workers must pick rose petals by hand early in the morning before sun rises high in the sky and evaporates the oil.
In addition to rose oil, rose water is also a by-product of the distillation process that produces the essential oil. Rose water commonly available from chemists is more frequently made with synthetic fragrance extracts, not real roses. Genuine rose water is available from herbal and aromatherapy suppliers. It contains up to 20% pure essential oils that are soluble in water and left behind after the distillation process.
The beauty of roses goes beyond their pride of place in the garden. Their anti-inflammatory and antioxidant qualities means that incorporating this fragrant flower into our beauty regimes can also help our complexions bloom. Read on for a few simple beauty benefits of rose water and rose oil.
Beauty benefits of rose water
Skin tonic: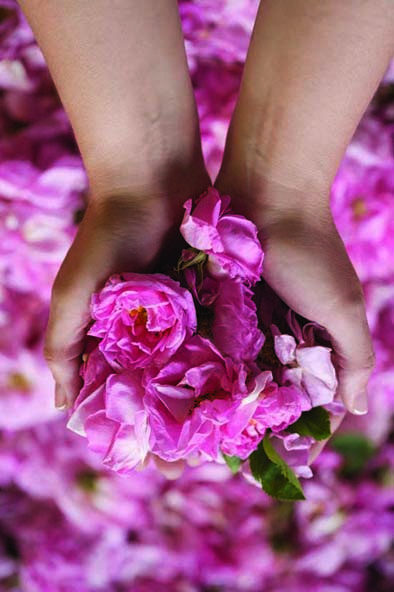 Rose water is gently astringent. This makes it a useful skin tonic ingredient as it helps prevent the clogging of pores and the formation of pimples and spots. Applying rose water to the face after steaming can also help reduce redness and blotchiness due to its anti-inflammatory properties.
Make-up saviour:
Many top make-up artists recommend spritzing a super-fine spray onto the face. This helps to set make-up and powder in place.
Eye brightener:
Apply chilled rose water to the under eyes on dampened cotton wool pads for about 10 minutes. This easy home remedy helps to reduce dark circles and discolouration. Its anti-inflammatory properties can also help reduce puffiness.
Hair rinse:
Using rose water as a hair rinse can help restore hair's natural pH level because it is closer to that of hair itself. Try it by adding rose water to a natural hair rinse after a conditioning treatment. Leave on for five minutes before washing out to leave hair glossy and gorgeously scented.
Looking for Rose water? Liz loves this one by Steenbergs
Beauty and wellbeing benefits of rose oil
Odour buster
One of the key ingredients of rose oil is farnesol, a natural antibacterial agent that prevents the growth of bacteria. Spraying some into our trainers can help ensure our feet still smell of roses – even after an intense workout!
Complexion booster

Rose oil can help to gently rehydrate and tone the skin, softening and brightening a tired face.
Mood enhancer
Aromatherapy shows that rose oil has mood-uplifting properties. Placing a few drops of rose oil into a diffuser by the bedside table before bed can help us to wake up feeling more refreshed and less anxious.
Powerful antioxidant
Rose essential oil is also a powerful antioxidant. It contains vitamin C, which helps to protect skin cells from damage, including sunburn, and skin ageing oxidative stress.
Beauty and wellbeing benefits of rosehip seed oil
Slow the ticking
Not to be confused with the oil extracted from the petals of the flower, rosehip seed oil (Rosa canina) comes from the fruits that sit behind the rose flower. It is one of a handful of vegetable oils to contain pure retinol (vitamin A), which research shows can improve the appearance of fine lines and wrinkles. It also helps to diminish age or sun spots. You can read more about the beauty benefits of rosehip oil here.
Read more articles like this
Wellbeing Wisdom
Rose essential oil is also a powerful antioxidant that helps protect skin cells from damage, including sunburn
Using rosewater as a hair rinse can help restore hair's natural pH level because it is closer to that of hair itself