Banana loaf with toasted coconut
Ingredients
Banana loaf with toasted coconut
100g desiccated coconut
250g self-raising flour
1 tsp bicarbonate of soda
4 tbsp coconut oil, melted, plus extra to grease tin
100g soft dates, chopped
300g overripe bananas
4 tbsp sugar-free apricot jam
3 large eggs, lightly beaten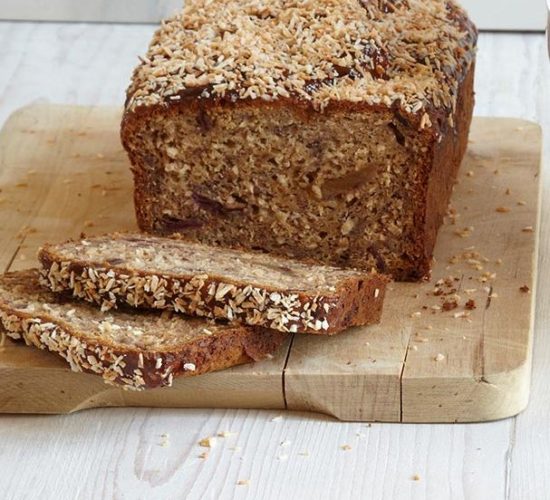 This deliciously moist banana loaf with toasted coconut makes a wonderful teatime treat. The nutty crunch of the coconut perfectly accompanies the stickiness of the dates, with the apricot jam adding a fabulously fruity edge. Enjoy with loved ones over your favourite cup of tea.
Method
Preheat the oven to 180C/160 C fan/gas mark 4. Grease and line a 2lb loaf tin with baking paper.
Spread the desiccated coconut over a baking tray and cook for five minutes, stirring halfway through, then remove from the oven and allow to cool completely. Once cool, remove 75g and place in a large bowl with the flour and bicarbonate of soda. Reserve the remaining coconut for later.
Put the dates into a small pan with 75ml warm water, set over a medium heat and cook, stirring frequently until the dates have almost completely broken down. Remove from the heat and allow to cool.
Put the bananas in a large mixing bowl and mash with a fork until almost completely smooth. Add the coconut oil, cooled dates, apricot jam and beaten eggs, and stir well to combine.
Stir the wet ingredients into the dry ingredients, spoon into the prepared tin and bake for 60-75 minutes, or until a skewer inserted into the centre comes out clean. Cover the loaf loosely with foil if it is getting too much colour during baking.
Wellbeing Wisdom
Bananas are rich in potassium which can help lower blood pressure

Bananas also contain magnesium which is also important for heart health