Aquafaba Eton Mess
Ingredients
For the meringues
Liquid from a 400g tin of chickpeas (approx. 150ml)
1/2 tsp cream of tartar
100g golden caster sugar (or plain caster sugar if you want crisp white meringues)
1tsp Earl Grey tea leaves blitzed to a powder (optional)
For the coulis
150g raspberries
15g redcurrants or a tbsp of redcurrant jelly
25g coconut sugar (or caster sugar)
80ml British sparkling wine
To serve
200ml whipped coconut cream (or other non-dairy yoghurt as you prefer)
1 tbsp vanilla extract
100g strawberries, quartered
Mint or basil leaves
Thick balsamic vinegar
Black pepper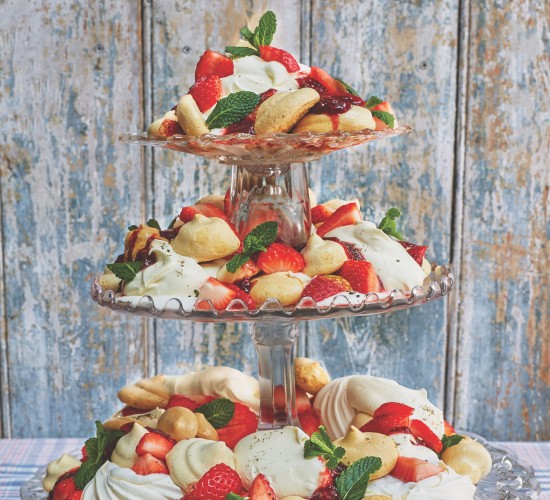 This egg-free Eton Mess uses aquafaba (the drained water of chickpeas) for an unbeatably light meringue; paired with summer berries, it's guaranteed to please every guest around the table this summer.
Method
Try this egg-free meringue alternative, or make with a traditional meringue if you prefer. For aquafaba, add the chickpea liquid to a mixer and whisk on high for five minutes or until it has doubled in volume.
Add the cream of tartar and whisk well, then, with the motor running, add the sugar a tablespoon at a time until fully incorporated. Whisk for another ten minutes until glossy and firm, then mix with the tea if using.
Transfer to a piping bag and type small and large meringues on to two baking paper-lined oven trays. Bake for one and a half to two hours at 160°C/320°F/gas mark 3, until firm and crisp. Turn the oven off, then leave to cool in the oven for a further two hours.
Make the coulis by adding the berries to a saucepan with the coconut sugar. Cook until they have collapsed and become saucy. Add the wine and bring to the boil. Cook until the liquid starts to thicken, reducing by a quarter. Simmer for about five minutes, then leave to cool.
Whip the cream and vanilla until light and fluffy. Serve in tiers on a cake stand. Drizzle the cream over the meringues and toss over the quartered strawberries. Finish with the berry coulis and some mint of basil leaves. You may also drizzle over some thick, aged balsamic vinegar and even a twist of black pepper.
Loved this? Now read: