Almond butter and cacao slices
Ingredients
For the base
100g unsalted butter
50g maple syrup
50g almond butter
250g porridge oats
20g cacao powder
50g Medjool dates, pitted and finely chopped
For the first layer
330g Medjool dates, pitted
100g almond butter
80ml coconut cream, from a carton
Top layer
200g dark chocolate (70%)
3 tbsp coconut cream
2-3 tbsp boiling water
You will need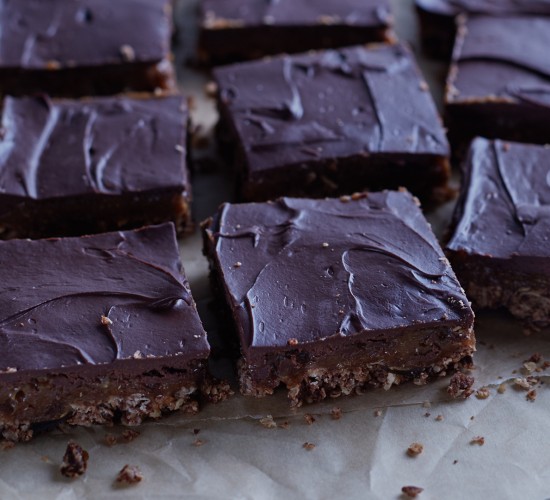 This healthy alternative to a chocolate traybake is a delicious afternoon treat to be enjoyed with a cup of tea when you fancy something sweet, but not too sugary.
Method
Preheat the oven to 180°C/350°F/gas mark 4. For the base put the butter, syrup and almond butter into a medium saucepan and melt together over a gentle heat. Pour in the oats and mix together until they are completely coated. Add the cacao powder and dates, then press the whole mixture into the base of a 20X30cm lined baking tin.
Bake the base for ten minutes, it will feel quite firm and smell very chocolatey. Leave to cool. For the middle layer, put the dates and almond butter into the food processor and blitz to a smooth paste. Add the coconut cream and blitz again until you have a thick, smooth fudgy texture. When the base has baked and cooled, spread the middle layer on top and chill for an hour.
For the top layer, bring a pan of water to the boil, then sit a bowl on top, making sure the water doesn't touch the bowl. Melt the chocolate gently, then remove from the heat. Pour in the coconut cream and use a balloon whisk to beat together. If the mix splits, slowly whisk in the hot water and it will come back together again. Pour on top of the date mix and spread it out evenly. Set in the fridge for at least two hours, but best for four. Slice into 20 squares and keep in the fridge until ready to serve.