Advertise with us
"Liz Earle Wellbeing draws on over 30 years of my research and experience in the world of wellness, natural health and beauty. As a working mother of five, I know just how busy our lives can be as we juggle family and business, day in, day out. We need simple, sensible and straightforward advice that will truly make a difference to our health and happiness, not fads and unfounded claims that are sadly all too common in the health and beauty industry. Liz Earle Wellbeing was created to do exactly this – to inspire and empower our readers with the trusted, well- balanced information they want in order to eat well, live well, look good and feel great."
LIZ EARLE MBE, 
Editor-in-Chief and Founder of Liz Earle Wellbeing 
Liz Earle Wellbeing magazine was launched in May 2015 at the request of many of our early subscribers. Ever since, we have insisted on providing rich, beautiful content in every printed issue, with production and design values that are second to none. Our magazines have an enduring and timeless feel and are much-loved and collected by a loyal, engaged and growing subscriber base. 
In challenging times for newsstand sales, Liz Earle Wellbeing is bucking the trend with a year-on-year circulation rise of 27%. 
Highly targeted and extremely engaging, Liz Earle Wellbeing can now be found across a range of digital platforms. From video recipes and digital e-books to live Q&As, weekly newsletters and podcasts featuring other world-class health, beauty and wellbeing experts, lizearlewellbeing.com is packed full of Liz's wellbeing advice. And in the past year has seen a 33% increase in both page views and unique users.
Liz Earle Wellbeing's audience is highly engaged and loyal. Many have followed Liz's advice over the last 30 years, and know the advice and brands recommended by Liz Earle Wellbeing can be trusted.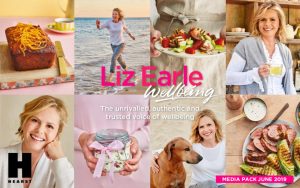 If you would like to advertise with Liz Earle Wellbeing, please download our Liz Earle Wellbeing Media Pack 2019 to find out more.