60-second sparkle make-up look
In this social whirl of hosting and entertaining, celebrity make-up artist Kerry September shares her secrets on how to cheat your way to looking gorgeously glam. Follow her exclusive guide below, or add just one element for an instant, elegant sparkle.
Radiant skin
Start with a freshly cleansed face and use a light moisturiser to replenish skin with a smooth glow and provide a good base for your make-up. Apply a small amount of foundation to any areas you would like to cover.

Go for glow
Strobing is a faster, simpler alternative to dark contouring and uses a highlighter to give a clear, luminous tone to the skin. Use a buffing brush to lightly dust your highlighter (such as Hello Light Crème Illuminator by IT Cosmetics) over the top of your cheekbones, brow bones and sides of your nose.
Glitter eyes

A glitter-lined eye is a quick way to add instant wow-factor to your party look. Kerry used Urban Decay Heavy Metal Glitter Eyeliner in both Midnight Cowboy and Glamrock. This gel glitter is easy to apply and dries exactly where you want it (just keep your eye closed until it's dry). Dotting the glitter along your top lash line is the simplest way to build up the layers. Use more than one shade of glitter for extra 'pop', or keep it to one light shade for grown- up glam. Add a little shimmer along your bottom lash line with Liz Earle Eye Pencil in Golden Bronze
Luxe lips

Softer than a scarlet red, a beautiful berry shade is the perfect lip shade to complement a glitter eye, and a matte finish stays put for longer. With your finger, pat the lip colour lightly onto your top and bottom lip, building up the colour to suit. This patting and laying of colour helps keep it in place all evening. Kerry used Charlotte Tilbury Matte Revolution in Glastonberry and then highlighted the cupid's bow with a light shimmery eye pencil, such as Charlotte Tilbury Colour Chameleon in Champagne Diamonds.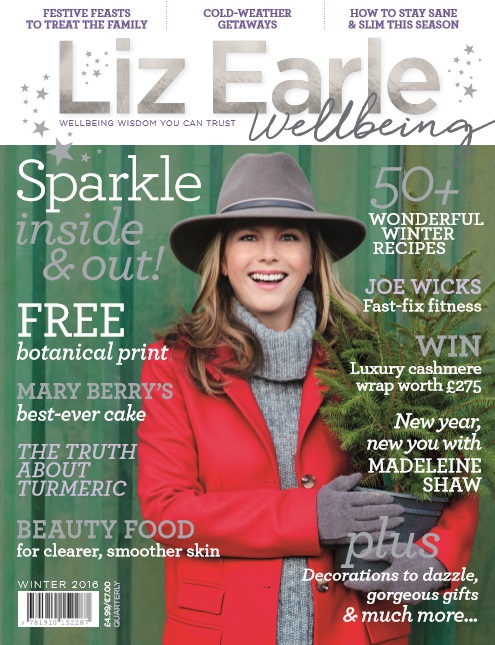 This article is taken from the Winter 2016 issue of Liz Earle Wellbeing. For more health and beauty tips, plus Liz's wellbeing wisdom, subscribe to the magazine and get free P&P (UK).